Delivery Options
Standard (3-5 day) £4.50
Courier next day (For orders received before 12.00 midday. Orders placed on Fridays will be despatched the following Monday. We do not deliver on Saturday) £6.95
Free delivery over £175
Prices are per order
View full delivery details here
Product Description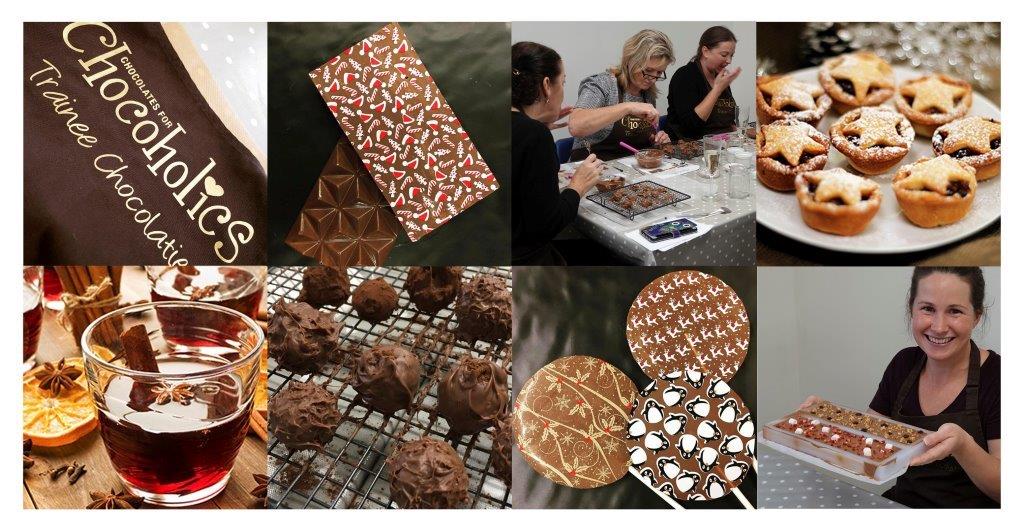 Winter Chocolate Workshop
Christmas chocolate workshops....great for a present, a Christmas party or corporate team building!
Enjoy a complimentary glass of mulled wine and a mince pie on arrival
Discover the bean-to-bar journey, with the help of a few tasters on the way!
See first hand how the chocolate tempering process works
Enjoy a delicious hot chocolate half way through the workshop
Get hands on making your very own chocolate ganache truffles
Make & decorate chocolate lollies and bars with Christmas transfers and decorations
Take part in our fun Chocolate quiz with a prize for the winner
At the end of the workshop, you will leave with a Chocoholics Christmas gift bag to fill with your own creations on the day, and hopefully a new found love of all things chocolate!
The workshop will last for approximately 2.5 hours
MINIMUM AGE 18
Workshop Dates
Saturday 1st December 10am & 2pm
Saturday 15th December 2pm
We also hold them on evenings throughout the week. Please call us on 01189 321043 for up to date availability.
Find Similar Products by Category
Customers also viewed